Wake hoops 2012-13 forecast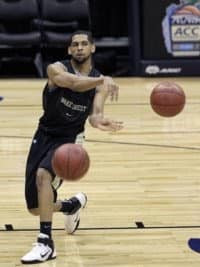 It is an overcast day in Winston-Salem, but it appears
Jeff Bzdelik
and his staff are beginning to lift the dark cloud that has covered the Wake Forest Men's Basketball Program during the first two years of his tenure as head coach of the Demon Deacons.
The team saw improvement in the win-loss category, going from an 8-24 (1-15 ACC) in 2010-11 record to a 13-18 (4-12 ACC) campaign last season. However, the Deacs were rocked by a mass exodus.
Starting forward
Nikita Mescheriakov
graduated, center
Ty Walker
, who was dismissed before the ACC Tournament,
Carson Desrosiers
, who would have likely been the starting center this season, transferred to Providence, while
Tony Chennault
, who was the starting point guard in 2011-12 left for Villanova and reserve point guard
Anthony Fields
departed for Bradley.
Wake started fresh with the addition of seven newcomers for its 2012 recruiting class to join the ACC's top two returning scorers combo guard
C.J. Harris
(16.7 points per game) and forward
Travis McKie
(16.1 points per game), reserve shooting guard
Chase Fischer
and backup power forward
Daniel Green
.
The new-look Demon Deacons hope to improve dramatically in what is expected to be a down year for the ACC and a more even playing field across board. Perennial powers Duke and North Carolina will face the aftereffects significant departures bring (the Blue Devils and Tar Heels had a combined six players taken in the first round of the 2012 NBA Draft), while NC State brought in the nation's No. 4 recruiting class to join a strong returning nucleus of talent. Florida State, Miami (Fla.) and Maryland also look to compete, making for what projects to be the most wide-open conference race in years.
However, for Wake Forest to make noise in 2012-13 it must get big-time production from its freshmen at key spots.
Codi Miller-McIntyre
, a 6-foot-3 and 195-pound point guard from Concord, NC, is expected run the show right away.
Rivals.com
rated Miller-McIntyre as the nation's No. 9 point guard and the No. 66 overall prospect.
Devin Thomas
, a 6-foot-9 and 240-pound power forward from Harrisburg, Pa., will be called upon to crash the boards and be a source of offense in the frontcourt.
Cavanaugh's play is similar to that of former Boston College combo forward Joe Trapani, while Adala Moto is an athletic and physical small forward and Rountree may remind the Black and Gold Faithful of former Demon Deacon Jamaal Levy.
Brighter days are coming to Winston-Salem.
Realistic possible outcomes for the upcoming season …
This team is capable of finishing with 20-plus wins, going .500 in ACC play and competing for its first post-season berth in three years. At the same time Wake Forest is also one or two major injuries away from another downward spiral.
Realistic scenario: Wake goes 21-12 (9-9 ACC) in the regular season, finishes seventh in the ACC, wins an ACC Tournament game and earns an NIT bid.
Best-case scenario: Wake goes 24-10, (9-9 ACC) in the regular season (undefeated in non-conference play), finishes seventh in the ACC, wins two ACC Tournament games and earns an NCAA Tournament berth.
Worst-case scenario: Another losing season.