Duke-WFU Capsule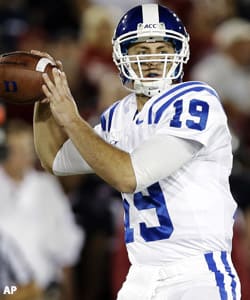 rushing attack with 129 yards and two TDs, and fellow RB Deandre Martin rushed for 115 yards and two scores. Army (0-3) came
up short despite 506 total offensive yards, 426 of which came on the ground.
Wake Forest and Duke will be meeting for the 93rd time, which is the third-longest
series for the Deacs against any team. The Deacons have won 12 straight against the
Blue Devils, including six wins in a row at BB&T Field. Duke's last victory in the series
just six recpeptions shy of becoming
the ACC's all-time leader ... Former
the league record with 232 catches.
throw a TD pass in the same season
since D. Bryant and Ben Erdeljac both turned the trick in 2000.
percentage at .707 (99-of-140) ... The
Scottsdale, Ariz., native matched his
career single-game high with four
touchdown passes last week against
Memphis and ranks 2nd on Duke's
career chart for 4-touchdown pass
Atlanta, Ga., where he stayed until being released on Friday, August 31. He continues to be a patient at the Shepherd Center.
two games. The Deacons have not lost a fumble all season through the
fi rst four games.
(4 fumbles, 2 interceptions) and have had just two turnovers, both coming on interceptions.