The re-flourishing of Alondes Williams
You might be surprised by the emergence of the Deacons' star, but maybe it shouldn't be that surprising; Plus, a preview of Saturday's Syracuse-Wake Forest game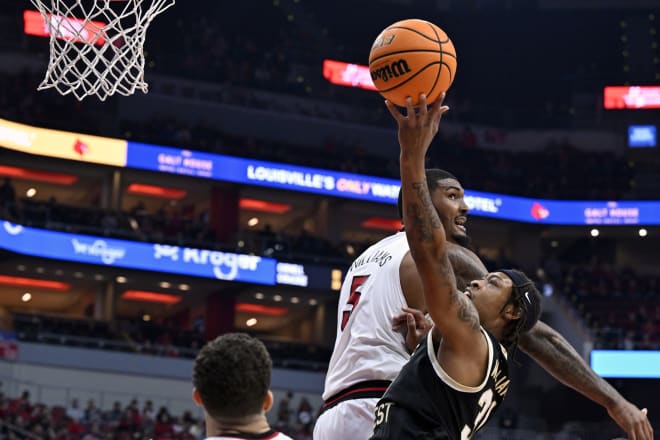 The phone is handed to Alondes Williams after a morning practice and his greeting from the other end is one word, repeated twice.
"Hello, hello, hello," says Wake Forest's breath of fresh air and leading scorer.
It's the same refreshing energy that's obvious when, before a preseason interview, he busts out a freestyle dance in the hallway outside of Wake Forest's practice gym – accompanied by an invite to join him.
This is Alondes Williams, oozing confidence and enjoying the freedom that comes with his fresh start at Wake Forest. It's an infectious energy that quickly won over his Deacons teammates in the summer, just as it's earned the affection of a fan base hungry for success.
It's a success that, through 15 games, has been devoured – by Wake Forest as a team and by Williams as an individual. The Deacons, at 12-3 heading into Saturday's game against Syracuse, have doubled last season's COVID-mired win total and appear, at the least, capable of reaching the program's second post-season berth in the last 12 seasons.
Leading the way is Williams, who's second in the ACC in scoring (20.1 points per game), first in assists (5.1), fifth in field goal percentage (54.7) and eighth in assist-turnover ratio (1.93).
You might be surprised those numbers come from the same player who averaged 6.3 points across 55 games in the last two seasons at Oklahoma, and one who spent two years at Triton College – a junior college outside of Chicago – before that.
It's no surprise, though, to the coaches who had him at those stops.
"I always thought with him, he just has always played the game how I think it should be played. And there's no greater compliment you can give somebody than that," said Steve Christiansen, who coached Williams at Triton and is now an assistant at Northern Illinois.
"Obviously this marriage is working, and … the main way it worked out is his strengths with Wake Forest's weaknesses, and so he's getting a ton of minutes and he's making the most of the minutes," said Jim Molinari, an assistant coach at Oklahoma during Williams' two seasons and now an assistant at Boston College.
"Usually, in most players' deal, minutes is the huge thing because usually it leads to a sense of confidence and security that lets them show who they are."
At Triton College
Christiansen recruited the son of Williams' high school coach, Tyrone "Rock" Lewis, the coach of Riverside High School in Milwaukee.
But when Lewis called Christiansen in the summer between Williams' junior and senior seasons, he was a little surprised.
"I'm like, 'Rock, nobody really thinks about going to junior college before their senior year,'" Christiansen said.
But Lewis insisted, and that gave Christiansen an early inroad to Williams' recruitment. Christiansen figures he made the 90-mile drive to Milwaukee about six times to cultivate the relationship.
"We had him off the table before any of the big boy JUCOs really even started their recruitment of him," Christiansen said. "That was a special two years for me, man. That kid, he had a ton to do with it."
Christiansen said an indication of chemistry on a team is how long after practice players stick around – and said in Williams' two seasons, his team never seemed to want to leave the gym.
He also isn't interested in taking credit for actually teaching him much.
(by now, I assume, you've heard of the ManMan nickname and its origin)
"I can sit here and tell you I coached ManMan for two years, and I coached him, but believe me man, I'm not dumb enough to try to tell you or anybody else I taught him any of that stuff," Christiansen said. "That was just about empowering him to go – 'God made you a good basketball player, you don't need me to screw that up.'"
Empowering Williams meant, ultimately, Triton winning the NJCAA Division II championship in 2018, his freshman season. Williams had 22 points and seven rebounds in the title game.
As a sophomore, Triton moved up to the Division I level of junior colleges and went 30-4. Williams' averages in his second and final season at Triton were 17.7 points per game, 7.7 rebounds and 5.3 assists, while shooting 50.4% from the field and 40.4% on 3-pointers.
The junior college route is the road less traveled for a multitude of reasons, but there's something to be said for players like Williams who make it through to the other side.
And there's something to be said for having a coach who's familiar with the path, too.
"They just, they know the struggle. They know how hard JUCO players work and they've just got more freedom," Williams said.
The freedom Williams has is apparent. Which means it isn't surprising to see him excel under Steve Forbes, who coached at the JUCO level for 11 seasons.
"This isn't an aberration. This is who this dude is," Christiansen said. "This was all about just opportunity and getting to play with confidence and being empowered by the coaching staff there. The Oklahoma ManMan, he wasn't – he didn't just like, have a good summer on his way to Wake.
"This is who this dude is."
At Oklahoma
The numbers for Williams at Oklahoma, as previously given, aren't going to jump off the page.
"Basketball has been pretty easy for him at the high school and junior college levels, and Oklahoma, he was played a different way, he wasn't played nearly as much," Christiansen said. "He kind of had to endure some lumps there that he really didn't need to probably accept. He was a better player than what they got out of him."
Part of that had to do with fit, part of it had to do with the role that Williams played.
And you need only pull up Oklahoma's roster from last season to see that Williams had some players in front of him in the pecking order of Lon Kruger's backcourt.
De'Vion Harmon is Oregon's second-leading scorer after transferring. Elijah Harkless stayed at Oklahoma and is the Sooners' third-leading scorer.
And then there was Austin Reaves. He's played in 20 games for the Lakers and just had the remainder of his contract guaranteed this season.
"So right away, I mean, that gives you less room in terms of mistakes," Molinari said. "It just gives you a much shorter leash, I think, as a player."
On that leash and playing 15-20 minutes per game, Williams lost some of his confidence at Oklahoma – and now that we're 15 games into the Wake Forest chapter of his career, it's safe to say he's found it again.
"A little bit, but you know, I don't really blame them," Williams said of losing his confidence. "I probably just didn't fit the system, or fit their style of play, something like that."
He fits Forbes' system.
In the non-Randolph Childress at the 1995 ACC tournament category, you'd be hard-pressed to find three better games in a row than Williams' December stretch against USC Upstate, VMI and Charlotte.
First it was the triple-double against USC Upstate, Wake Forest's first since Tim Duncan accomplished the feat in 1996. That was followed by a 36-point game against VMI, carrying the Deacons back from a 17-point deficit.
Williams capped off the three-game stretch with 34 points against Charlotte, which doesn't include the game-winning assist on Isaiah Mucius' buzzer-beating corner-3.
"I'm thrilled for him … I felt like I had a real relationship with Alondes. You know, you don't have that with every player," Molinari said.
The transfer portal
The more you dig into Williams' role at Oklahoma and why things didn't work out, the more obvious it becomes that with or without a coaching change – Kruger retired, in stepped Porter Moser – Williams needed to transfer.
And you realize, the transfer portal is the perfect vehicle for what players like Williams need.
"All in all, this is how it's supposed to work," Molinari said. "Could Alondes have done more, sometimes to work on his weaknesses? Ab-so-lute-ly. Was Oklahoma perfect? No.
"But, and I'm going to tell you this emphatically: He never gave up on trying to be a team player. And whether he knows or not, Coach Kruger never gave up on him."
There's no need to worry about anybody on Wake Forest's staff giving up on him, either.
"He's playing with a lot of confidence. ... I try really hard to give our guys confidence, especially in games," Wake Forest coach Steve Forbes said. "It's amazing how much – how much better you play when you feel that way and you're not looking over your shoulder."
For Williams, there's a certain chemistry and understanding that comes with playing for a coach who's familiar with the work and grind it takes to be a junior college player.
"I feel like people who have been in D-1, you know, been in this life for a long time, there's a lot of politics that come with it," Williams said. "Junior college, it's not really like that. It's just who you believe in and that's who you're going to go with.
"D-1 coaches, they've always got their one or two, or three players, that they want to go to. JUCO coaches, they believe in everybody on their team and let them do what they can do to their best ability."
Sound familiar?
Williams playing for Forbes might not have been a guaranteed success, but it had a higher likelihood than most figured.
"I just want people to take their time in the portal," Williams said. "Sometimes people are just trying to rush things and you don't have to rush things in the portal.
"Just take your time and see who the right fit is, especially when you're on your last season, last straw like I was. I had to make sure that I had the right coach and see what they wanted to do for me."
This is where the detractors enter the conversation and point out that for every success story like Williams', there are two or three times as many failed transfer portal cases.
Maybe.
But in the case of Williams, it's worked out for all parties involved.
Making him the ManMan at Wake Forest.
**********
Here's what to know ahead of Saturday's game:
Time: 2 p.m.
TV: Regional sports networks (Bally Sports South if you're in NC)
Announcers: Evan Lepler (play-by-play) and Brian Oliver (analyst).
Series; last meeting: Syracuse leads 9-1; Syracuse won 75-73 in 2020.
Records: Syracuse 7-7, 1-2 ACC; Wake Forest 12-3, 2-2.
KenPom prediction: Wake Forest wins 81-76.
Deacons Illustrated prognosis: I'd forgotten that these teams didn't play last season, the casualty of the Deacons' 33-day pause for COVID-19 cancelling the Orange's scheduled trip to Joel Coliseum.
It'll be interesting to see who Wake Forest puts in the middle of the 2-3 zone – I mean, that's the interest for every team going into a matchup against Syracuse, but I'm especially intrigued by it going into this game.
Why? Because Wake Forest has a few options to throw in the high post who can knock down shots from there or distribute.
The obvious choices are Alondes Williams or Jake LaRavia. But is there a third option? Or maybe the better question is whether the Deacons even would need a third option.
Defensively for Wake Forest, the Deacons certainly got back on track against Florida State. Now the question morphs from "can they put together 40 minutes of strong defense?" to "can they do so for a second straight game?"