Jim Grobe and player Q--As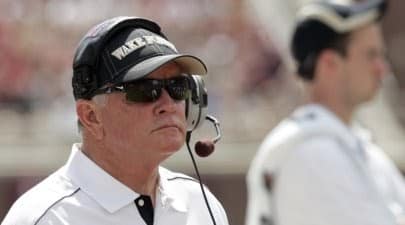 What are you seeing from Boston College? I know they have had their struggles, but they just beat a tough Maryland team.
"Well, offensively they throw it really well. They got a big, strong-armed quarterback [
Chase Rettig
]. I think the [Alex] Amidon kid is averaging about 120 yards a game receiving. Is it [Bobby] Swigert, the other kid is a good receiver, got a another big receiver to throw to, so they've got some targets and the quarterback's got a great arm."
"Defensively, they played so many good teams like us. You play a lot of good teams it's tough, but they really showed great improvement last week against Maryland, played good when it counted, got a three-and-out when they had to get it."
"And then their offense drove against a great Maryland to win the game, so I'm sure they got some confidence right now, and they'll be a challenge."
On how Wake cannot take BC lightly despite its 2-6 record: "I think if you don't follow the ACC it's easy to do that, but in this deal there are probably a couple of other teams that are kind of marquee in Florida State and Clemson, and there are probably a couple of more you could push into that category. I think NC State that way, maybe there's another out there that would fit, but with the most part you look at a couple of teams that are playing at a national level and then the rest of the ACC's a toss-up; flip a coin. Anybody [that] plays anybody can win, and they got players that understand that."
"If you look at any teams in our league and you look at records first that's a mistake, because I think all of us can beat each other. It's just the way it is."
Mathematically it would still be possible for you to get to a bowl if you lose this game, but realistically this is one that's really hard to see you not getting and still go to a bowl. "Well, the thing that we've got to do I think … this is cliché, but the only team we have left is Boston College. That's kind of the way we've got to look at it. If we even think about the next three we're not doing the right thing, and I think we know if we don't play well this Saturday and get this win our job gets that much tougher. Now, instead of four opportunities you've got three and you have Notre Dame and you're looking at a top five team in the country and NC State I think that's why I said NC State's when you beat Florida State that shows that you've got the talent to be in that top group and then Vanderbilt wore us out last year and they're playing good football in the SEC. Yeah, we got to take them one at a team, but none of them are more important than this one Saturday."
So it's November and you're backs are against the wall again. That's something new isn't it around here? "Yeah, and you know it's been a typical Wake Forest season where we've had a chance to win a bunch and we've won a few and lost a few. We've had chances that we didn't take advantage of and had some chances that we did take advantage of. I think that's our plight. We've got to play good Saturday to win, but my guess would be that we'll be in the fourth quarter with both of us having a shot. That's kind of the way it's gone with Boston College. We've had some wild rides with these guys."
"We're so similar academically and talent-wise that most of our games are late fourth quarter games with somebody making a play to win."
Has everybody shaken off the Clemson? Is everybody ready to go for this week? "Yeah, definitely. We've already had two practices. We came out Saturday and we were very focused on what we needed to do for BC, because we know it's a games where we definitely have to come out and play our best."
What do you feel like you guys have to do specifically in this Saturday's game against this Boston College team that just beat a good Maryland team? "I think this week we need to focus on doing our jobs as individuals and everything will fall into place if we just do the things we're coached to do."