Grobe and player Q--As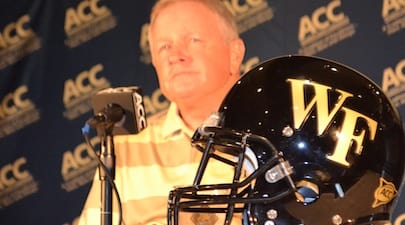 Wake Forest (5-4, 3-4 ACC) and NC State (5-4, 2-3 ACC) are a win from bowl-eligibility, making this annual Tobacco Road rivalry game more significant than just bragging rights.
You guys have had a couple of days to start focusing on NC State now. What are you seeing from them? "A really talented football team. You don't beat Florida State without a lot of talent. NC State's got lots of talent, but as you found at last week you've got to play every week. All the teams we play are good teams. Everybody's got good players. Everybody recruited good players and are capable of beating everybody."
"We've not had a lot of success at Carter-Finley Stadium. It's a tough place to go play, and it will take a great effort on our part to come out of there with a win."
What's your health situation? "I think we're in pretty good shape right now. We got a couple of bumps and bruises like you normally do at the start of the week, but not anything real serious. I would say that all of the kids that were on the field Saturday should be back on the field."
You never really know how a team is going to react to what happened the week before till you get on the field and see how they do. It could either with State. They could be really, really fired up and amped to play well or they may have lost some focused and won't get it back. I guess as a football coach you've got to assume that you're going to get their best don't you? "Yeah, I think typically teams that have more veteran leadership handle November better. They stay more focused, and I think as coaches we know this game is a week-to-week game."
"For us to win we've got to play at a high level, and I think you've always got to expect the best out of your opponent. It's a little bit like a golfer when he's in match play. He's expecting his opponent to make the crucial putt. You just got to expect that's going to happen. We expect that NC State's going to bounce back."
"They've had as you do through a season you have so many ups and downs. They beat Florida State, then lose a heartbreaker to Carolina, then don't play their best against Virginia, so you would expect that they'll bounce back and play their best Saturday. That's what we're expecting."
With the winner of this game becoming bowl-eligible do you play on that, try to use it for motivation, or go the other way and try to not to make a big deal? "I think last week our kids realized we were in a tough spot with four good teams left to play and they knew we had to win two games to have a chance to play in a bowl game, so we got one out of the way."
"Our guys know what's at stake. They know we've got to win another game to get bowl-eligible, and of course as a coach what's you're really focusing on is playing good for three weeks. You don't want to just focus on getting a win, but they know how important this game is. If you focus too much on being bowl-eligible and look at all of that pie in the sky stuff, what might happen, you don't play very good football, so we're trying to focus on a really talented, well-coached NC State team and at the same time try to keep as much focus as possible on us getting better."
"We did some really good things the other day against Boston College, but we had some issues too. There were too many big plays on defense, gave up too many, had a lot of turnovers, a couple of great fourth-down stops, a lot of good stuff, but we got places we can improve."
"And then offensively obviously we did some things, but we did some bad things. I think the key is you know that bowl stuff's a potential. It's out there on the horizon, but you got to play well to get there and the way you play well is take care of yourself."
You're getting ready to face one of the better secondary's in the ACC. Just tell me about this challenge that you guys are preparing for right now.
"They're definitely [one of the] top two or three secondary's in our conference. They got a lot of good guys back there.
Earl Wolff
's a great safety and then [Brandan] Bishop, those two guys are real good. They've been playing together for a while, and [David] Amerson out there on the corner he's an All-American. It's going to be a huge challenge."
Losing as bad as they did to Virginia is the general feeling of the team they're going to come loaded for bear? "Yeah, definitely. They're sitting at 5-4 like us. They need one more to be bowl-eligible, but I think we have the same attitude going up there. I think we know that we need one more as well. It's a huge game. It's an in-state game. We're excited. I think the team is definitely going to be amped up for this one."
You're getting ready to play a really experienced NC State offensive line. What are you seeing from them right now? "I'm seeing a big, physical o-line just like every week, but this one has a pretty good bit of experience and I just need to approach this o-line like we do every week, prepare, watch film and work."
What about the NC State offense in general? I know they like to through the ball, so is there an even greater emphasis on pass-rush this week? "We know that they throw the ball a good deal, but we just have to prepare week-to-week like we do with each team. I'm sure they prepare for us in the same way, studying us on film just like we study them on film, so it just all boils down to practicing hard all week and producing on Saturday."